From the shimmering reflection of the sun atop the water on a lazy summer day to the excitement of your line pulling taut from the weight of a perfect salmon, there are many things to love about fishing. These reasons and many more are why the US has over 29.2 million registered anglers.
Blowing the registered number of fishermen out of the water, an estimated 52 million Americans spent time with their rod and reel in hand in 2022. However, if you're ever pulled away from the activity due to inclement weather, don't despair.
Plenty of fishing games are available to fill the void when getting to the nearest lake or ocean isn't viable. The best of these games, listed below, will be a hit with any fishing enthusiast and take their love of fishing to the next level.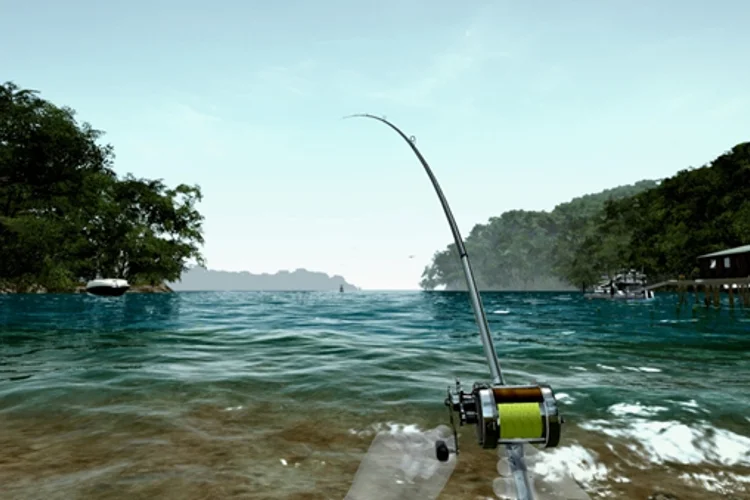 Rapala Fishing Pro Series
Any avid angler knows about the Rapala brand. Providers of some of the best lures on the market, Rapala Fishing Pro Series is a game for anglers designed by anglers to bring the ultimate fishing experience straight to your screen.
Released on PlayStation, Xbox, Nintendo, and PC, the game takes you to North America's best fishing locations. Each of these is recreated in stunning detail and has graphics that will make you feel like you're really there- protecting against any possibility of boredom.
Swimming in these iconic locations, you'll find several fish species, including largemouth bass and northern pike. Catching these can help you rank up in the multiple online tournaments held in-game based on real-life events-all while trying to land sponsorships and become the best angler of them all.
Fishing Sim World: Pro Tour
When it comes to spectacularly recreating real fishing venues and locations, almost no game does it as well as Fishing Sim World: Pro Tour. Each of the ten fishing locations, including the popular Lake Travis, is beautifully detailed and fully immersive.
Alongside the incredible scenery, this game offers one of the most comprehensive career modes of any angling game. As you try to become the best fisherman, you'll compete against more than 100 professionals like Scott Martin and Ali Hamidi.
Beat the pros by catching as many of the 29 species of fish the game supports, and you'll quickly find yourself gaining sponsors, purchasing new equipment from the 50 real-world brands, and winning online tournaments against other players. However, be careful that the unpredictable weather and other surprising elements of the game don't throw you overboard on your way to success.
Call of the Wild: The Angler
Developed by the same studio behind the popular game Hunter: Call of the Wild, this game takes you deep into remote fishing locations. These can be discovered by driving around the open world, tackling the terrain on foot, or gliding across the water in one of the many available watercraft.
The solid story mode will let you build up your angler from a novice to a pro while unlocking new equipment, abilities, and areas to explore. At each location you stumble across, you'll find a unique spawning system that stocks the shimmering waters with certain fish based on factors like the temperature, time of the day, location, and even the water depth.
If the game dynamics and jaw-dropping graphics aren't enough, the game also features an online multiplayer mode that allows you to play with up to 12 other fishermen. As you and your friends take in the sights, each of the unique species you'll try to catch will react differently while being pulled from its aquatic home.
Fishin' Pots of Gold
The thrill of fishing is amplified by one of the most popular games among angling gamblers. This slot game takes you into the world of Irish fisherman Lucky Ladd Flynn and tasks you with helping him (and yourself) find the best catch.
The game has incredible graphics that depict an underwater scene framed by a swishing rainbow. These highlight the detailed fish symbols that can be used to try and score a possible winning combination.
Getting three lucky clovers in this game will give you the free spins bonus. Making a catch that will leave you celebrating is more likely because of the added reels and pay lines. However, what makes this game stand out for any fishing enthusiast is that, like with angling, you never know what you may (or may not) get.
Fishing Planet
If you're looking to catch as many types of fish as possible, a trip into the world of Fishing Planet is exactly what you need. The game boasts more than 120 species of fish that can be hooked. Each has a unique AI that makes them trickier to catch and presents a unique and enjoyable challenge.
With 19 locations to test your fishing ability, you'll also be left in awe of the spectacular graphics that perfectly complement the realistic physics the gameplay provides. Add to this a dynamic weather system that plays an instrumental part in which fish you can catch, and you'll need your wits about you to hook a fish you can boast about.
A multiplayer mode lets you pit your angling skills against other players to see who can earn the most bragging rights. This mode also has a leaderboard to track the best of the best and has an achievement system to reward you even more for big catches.
Ultimate Fishing Simulator 2
Sequel to the massively popular Ultimate Fishing Simulator (UFS) released in 2017, this new iteration of the game takes things to the next level with improved gameplay, better physics, crisper details, and an incredible variety of fish to catch.
Explore some of the most incredible fishing locations in the US, Poland, Slovakia, Thailand, Russia, and Germany. Each destination is rendered in such excellent detail that you might almost forget to cast your line as you take in the digitally recreated environments.
However, once you're done admiring the scenery, things get down to business quickly. The game has an online mode featuring multiple tournaments. This mode will let you compete in catching some of the 60 species available (including the fearsome tiger shark) using some of the more than 300 pieces of equipment that can be purchased and unlocked.