Have you heard of the saying, "You can't take back the words you say"?. And that it is better to think things through before speaking? Well, you can at least delete them or better still use a website that immediately deletes them for you. And wipe them off their server and throw it into hyperspace. Where Iron Man's Avengers or Thanos could never reach. Okay, maybe we might have exaggerated a little. But this ability was one of the key features that made Chatstep a hotshot during its peak years. Chatstep offered this chat platform (which it called a chat room) where you could hide behind a nickname and chat with handpicked friends.

What is Chatstep ?
Chatstep is an online chatting website with features that allow users to create or enter a swift chat room. It features allows one to make use of the website without creating an account. Users can create a chat room and chat using a nickname or an anonymous identity. But you would need to create an account to utilize the picture and media sharing features and private messenger.
Unfortunately, Chatstep 's website is no longer functioning. But if rumors are to be believed , then its mobile app version is currently being developed for Android and iOS.
How Does Chatstep Work?
Chatstep is very easy to use and its procedure can easily be carried out. Chatstep has three modes of chatting on the site.
Create a chat room. Name your chat room and share the link and password of the chatroom with selected friends and family.
Join a room through a link.
Access other publicly available chat rooms
Features Of Chatstep
It is hard to mention any other website that could offer you a quick chatting service as Chatstep. There are sometimes we might just want to have a chat or conversation with a group of friends. It's not always comfortable to add every one of them on social media or exchange contacts. This is one of several ways where Chatstep comes in handy. It is also used to have untraceable chat conversations. The websites do this by supporting the use of a nickname or simply an anonymous identity. The chats and history are deleted from the server as soon as you've closed the chat room.
Starting Up On Chatstep
STEP 1: Create or join a room. No account required, start chatting and collaborating in a minute.
STEP 2: Chat with up to 50 people and even have meetings
STEP 3: Share images and files by dragging. You can also paste links to listen to music or watch videos together.
Risk Involve in Chatstep
Because of the anonymous identity that Chatstep allows for its users, they would almost always be people who see it as an opportunity to misbehave. Most public chat rooms usually contain adult contents uploaded by users. Even nicknames and room names are not exempted . Because of this, we rate the site for users above 18+ only. We also advise you not to join any random room so as not to witness any content that might offend you. Also, members of a chat room can directly message another member. This might expose you to harassment. So only enter chat rooms that you know the person.
Alternative Sites Like Chatstep
Chatstep with all of its amazing features is currently not available. But don't worry, we know some other great alternative sites like Chatstep . Check them out!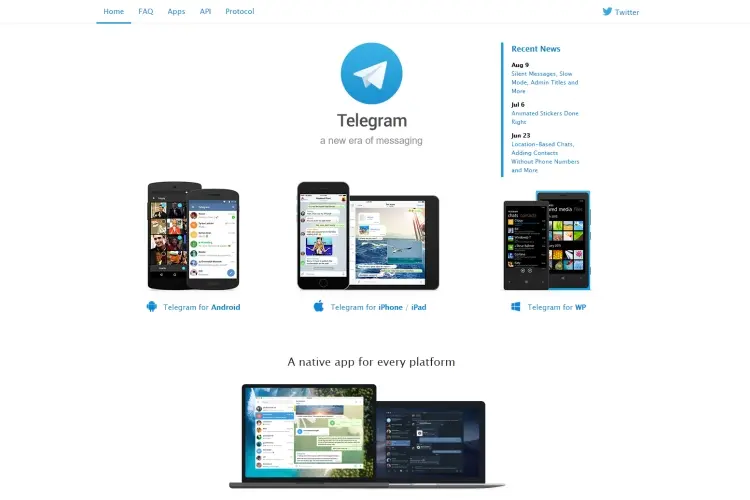 Telegram was created by VK creators and it's strongest points are speed and security. Like Chatstep, it is a messaging app with simple and fast delivery. Telegram though is super-fast. It is probably the fastest message delivery application as claimed on their website. Its simple structure allows it to work well in remote regions. Telegram is an alternative to Chatstep but it offers a lot more features. Telegram synchronized with your phone contact. It lets you send photos, videos, and messages to your contact list.
Telegram doesn't limit the things you can do. You can create a group chat for about 20000 users. You can even create a channel if you're planning to reach an unlimited number of subscribers. You can enable Secret Chat in Telegram to allow end-to-end encryption. Its messages are heavily encrypted . Telegram also has an open API and protocol. This allows you to customized or build your tools with their API. Its interface is user friendly, so it's easy to use. All these amazing features of telegram comes for free and without ads. Telegram is a very good alternative to Chatstep that you'd love.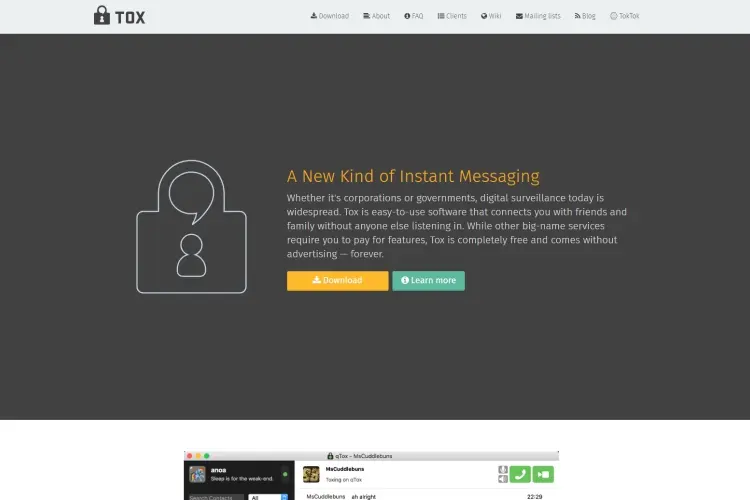 Do you want to have a chat that you don't want governmental digital surveillance to monitor? Then meet Tox - a simple software that connects you with your desire users with no one listening. Tox's messages are secured and fast delivery across the globe. Tox has a voice call feature that you can use to communicate with friends and family. If that amazes you, then it would even thrill you more to know that you can also make video calls using Tox's secure video calls. Screen and file sharing are also allowed in this app. Its file-sharing doesn't restrict the size you can send. It also supports many file formats.
If you're fed up with your messages being spied on or restricted, then you'd find Tox to be a savior. Tox gives you total liberty and security. Every communication you have in Tox is encrypted . Only the people you're talking with can see your conversation. Let's not forget Tox's group. Connect with your gang, chat, call and share any files of your choice in freedom. Tox not only provides freedom as in liberty alone. Tox is free in price. That means you get all these features free. Tox is an amazing alternative to Chatstep .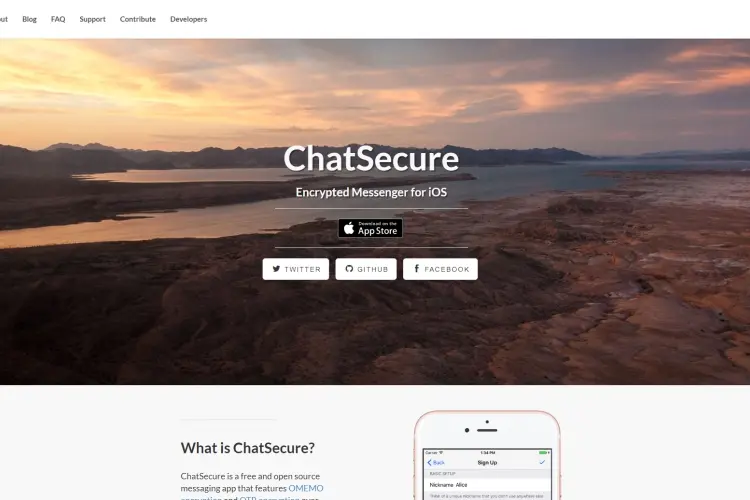 Well, the name reveals it all. This messaging app uses renowned source cryptographic libraries to keep your chat secured and private. Its verifiable end-to-end encryption and publicly auditable source prove its bold claim of military-grade security.
This open-source messaging app features both OTR and OMEMO encryption. You can connect your Google accounts or create a new one on public XMPP servers. For extra security, you can even connect your server. ChatSecure is integrated with other clients that support Jitsi , Adium and other OTR and XMPP. ChatSecure has a simple user interface. It is easy to operate, and it works well in remote areas. Unfortunately, ChatSecure is not available for Android. Its source code is available in GitHub for anyone interested. ChatSecure has the messaging features of most other Chatstep alternatives on this list. ChatSecure is a very good alternative to Chatstep
Strong Cryptography
· OTR for verifiable end-to-end encryption and forward secrecy
· Tor to help bypass restrictive firewalls
· XMPP with TLS certificate pinning.
· SQLCipher to locally encrypt conversation logs
· OMEMO for a mobile-friendly alternative to OTR.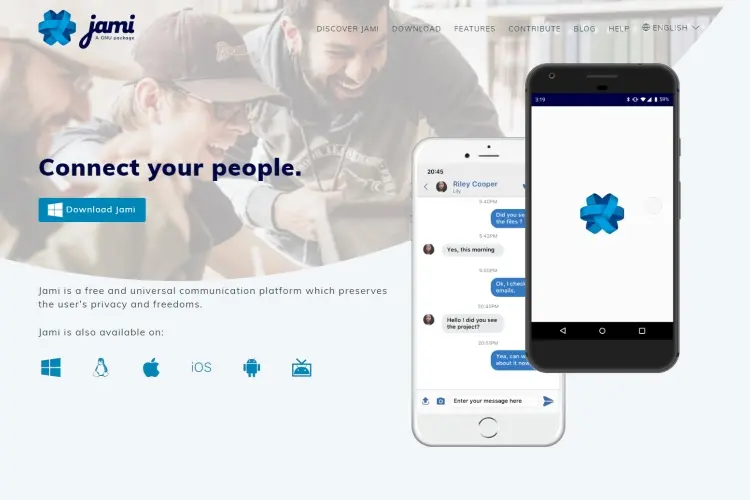 Jami is a messaging App platform that preserves your privacy and freedoms. It was developed by Canadian based Savoir-faire Linux . Its major aim is to provide the general public and industries with a messaging platform built on a distributed architecture. You don't need authority or a central server to operate. Its communication tool is free and secure. Jami Open Source Software allows you to contribute to its improvement.
You can communicate on Jami in the following ways:
It has a telephone tool to communicate and share
It has a teleconferencing tool that lets you synchronize calls to create a conference with over one participant.
It has a media sharing tool that allows you to share media files in high quality.
It has a messenger where you chat and sends your texts.
Jami is available on all platforms. It comes with a simplified and easy to use user interface. Jami like the others on this list is completely free and does not contain Ads.
Jami is one very good alternative to Chatstep that we can recommend to you.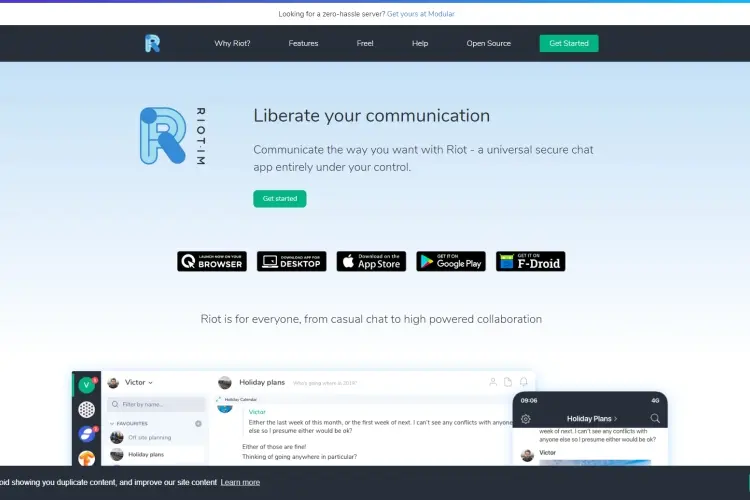 Riot was formally known as Vector. Its formal name was derived from its founding company, New Vector Limited. It is an open-source interoperable app. It is available for all platforms which include web, Mac iOS, Android, and Linux. It provides instant messaging features. Its messages are secured and you can decide to either do a public or private chat room. It also offers file sharing tool. You can share a document or high-quality media files with your friends and families. It also has a voice call tool, that lets you make voice calls with friends and family. You can also do the same in the chat room. Same as the video call, which provides face-to-face communication. You can make use of the video tool to do video conferencing on Android and Web. Among its technical functions, Riot provides bridges to other systems like IRC, Slack and many others. This is made possible because it is built on the Matrix.org open standard. You can make use of its hosted service or run yours for added security.
Riot like other apps on this list provides strong security and prioritizes your privacy. Its user interface is easy to use and communication is instant. This is one great alternative to Chatstep .
There you have it, we're done for the day So what are you waiting for? Visit one of these sites and go 007.