Let's be real, without any connection to the internet, our phones, tablets and PC's become utterly useless. We can't send texts, video call or even sometimes contact one another without an access to the internet. For this reason precisely, the need to be able to share internet amongst devices is so important. It makes sure that while one device has a connection, others can be connected to the Internet be as well. We have been able to enjoy this perk of modern technology for very long now. Don't have Wi-Fi? Connect to your friend's phones hotspot. Need to find the easiest route through traffic? Connect to your friend's phones hotspot. Lost with no hope to ever see civilization? Just connect to your friend's phone's hotspot and you're good to go. However, did you know that in Windows this very convenient tool was the first of its kind thanks to a nifty piece of software called Connectify? Since then, it has evolved to offering a multitude of operations such as dispatch, file sharing and so many others. This is all well and good but it would be insane not to mention the fair share of problems that came with its evolution.

Why would you even need a Connectify alternative?
As we have mentioned before, Connectify is a great way to share access to networks from one device to another. It is convenient and almost as ingenious as the creator of sliced bread. But, if it is all that great, why would you need alternatives for it?
Here is where the main problems of this software come in to play. For one thing, we know that Connectify is very hefty when it comes to its pricing. You'd need to pay with an arm and a leg to enjoy its perks. We do understand that there is a free version that's ready for you to download but, the main issue is how restricted it is. You see, the lite version can be available to download for free but its features are so restricted to include only the ones that are almost completely useless and that is a problem again. You cannot know for certain which features you require just by using the lite version. You have to buy the paid versions to use this software to its fullest.
As for the versions of Connectify that are available for purchase, there are 2 types:
· Connectify Pro. This will cost you around $34.98.
· Connectify Max. This is sure to set you back by $49.98.
As you can tell, calling this expensive is an understatement.
Another problem is that because of years of going through updates and adopting newer and better features, the interface has become very complicated. Say you are an absolute beginner, and what lies in front of you is a very useful software but it has an almost impossible to navigate homepage. You don't know where to click, what features you wish to try out. And, the language used in the descriptions is almost reminiscent of French. Wouldn't you say you would have a hard time getting about the interface? That's exactly what it is like using Connectify.
So, combining all these fixtures, neither the experience nor the price of this software seems to be worth much of your time. This is why we have compiled a list of all the best alternatives so you can peacefully use and share your Wi-Fi.
The best Connectify alternatives in 2023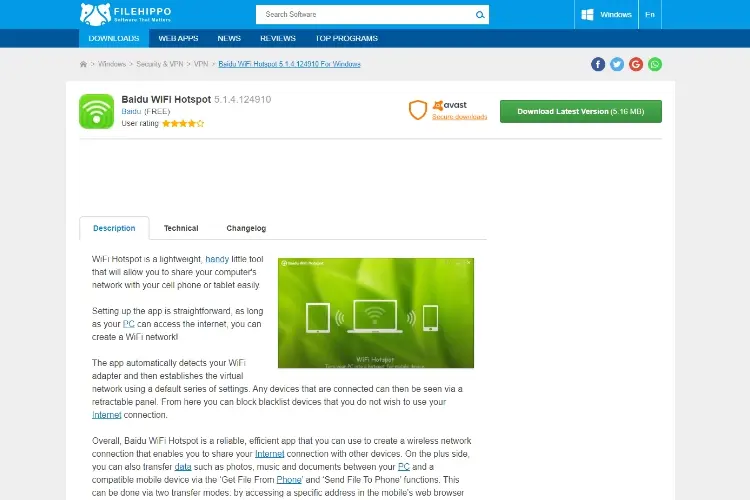 We know this one is amongst the favorite hotspots out there. People all over the world prefer this hotspot because of it's easy to operate and user-friendly interface. Baidu offers all the features that most users require, all without complicating matters to any extreme. It flawlessly creates a hotspot and handles its connectivity effectively. You will not be disappointed by it because of how efficiently it does its job. While you are connected, the connection is ensured to be fast and will have almost no drops in connection speeds. Alongside creating and connecting hotspots, it even allows the user to send and receive files from other devices also connected to hotspots. This is very convenient and highly admirable especially if you like all your work to be received and stored in one place. In addition, it is fairly easy to use and one can easily navigate through its interface to use the features it boasts of. 10/10 would recommend.
Compatible with: Windows 10, 8.1, 8, 7, vista, XP
Cost: free
You can download it here .
2. MyPublicWifi
Here is another great alternative that will turn your device to a wireless Wi-Fi access point. This software wastes no time in creating a hotspot network and ensures that its connection remains stable and quick as lightning. The connected devices will have a smooth internet connection that can send and receive files while being connected to the hotspot. While being one of the oldest hotspot software, MyPublicWifi offers a ton of amazing features that can outlast some of its modern equivalents. From the vast range of features it does offer, these can create a firewall which can restrict users from accessing certain domains, prevention of some Internet services to save bandwidth and many more. MyPublicWifi is one of the best when it comes to creating a hotspot mean for users other than yourself. When narrowed down, the only downside could be how this software's legacy UI is severely outdated as it has not been updated in quite some time. Other than this, you can find any and all of your requirements met by this amazing and super-fast hotspot software.
Compatible with: Windows 10, 8, 7, Windows Server 2008 R2, Windows 32/64bit
Cost: free
You can download this here .
3. LionScripts WiFi Hotspot Creator
The above mentioned options are great in their own right. They give you that extra fix while creating hotspots. However, if you're as simple as us and don't need any extra features other than creating hotspots then you're in the right place. LionScripts WiFi Hotspot Creator does the simple yet effective job of creating your Windows into a wireless Wi-Fi access point. This option is best suited to the beginner class of our readers as this option is incredibly easy to setup and will take you only a few clicks on the right places. We highly recommend this option to anyone looking for a simple, easy way to set up their hotspot. Plus, the interface is also very easy to navigate and will help you every step of the way in setting up your own little hotspot in no time. LionScripts WiFi Hotspot Creator offers both paid and free versions with the difference being only that the free version constantly is bombarded with ads. If you can find it to ignore these ads and concentrate on your work, then by all means download this software today!
Compatible with: Windows 10, 8, 7, Vista and XP
4. OSToto Hotspot
This option was once quite popular in the old days. Since then it seems that the developers must have killed the software as no new updates have come out in a very long time. That being said, the very last variation of the supported app is still available for download if one wishes to look into it. It still promises its same quality and working efficiency. It offers all the usual features which include:
· Blacklisting device
· using WPA2 PSK security protocol
· creating hotspots
Apart from these very ordinary features, one of the more exciting feature includes setting a timer to automatically switch off hotspots. You can even make your device into a hotspot and have it work flawlessly while it is hibernating. For these very features, this software is mentioned in our list. Even while it is not supported.
Compatible with: Windows 10, 8.1, 8, 7, XP, Vista.
Cost: free
You can download this here .
5. Thinix WiFi Hotspot Creator
This is one of the better priced options on this list because it offers all the features of Connectify, at 1/3rd of the price. Thinix WiFi Hotspot Creator allows you not only create a safe hotspot but also allows you to create and share an internet connection even when you are logged out of your device! The other additional features offered are:
· Connection identification
· Connection prioritization
· Profile creation
· Multi-language support.
All these amazing features make this one of the most diverse (feature wise) option on our list.
Compatible with: Windows 10, 8, 7 (doesn't support Windows 8 RT and Windows 7 Starter Edition)
6. Maryfi Virtual Router Software
Marify offers its users to wirelessly share their internet connection which can include a cellular cord, another Wi-Fi network and even a cable modem. The most outstanding feature of this option is that you do not even need a connection to the internet to create a hotspot. Maryfi also helps in the creation of a shared library of files which can be accessed anytime, anywhere. You can also play LAN based games without using any wires! The less the wires the less the hassle. Maybe the only downside of this option is that it is not supported on Windows 10.
Compatible with: Windows 7, 8 and 8.1
Cost: free
You can download this here .
7. Windows 10 Native Hotspot Creator
The final name on our list, the Windows 10 Native Hotspot Creator is extremely versatile and easy to use. With the release of their latest installment, Windows 10 now allows its users to create their own native hotspot on their devices which support Windows 10. Even though it is relatively simple and only offers the creating and sharing of hotspot, it is still a simple and easy way to set up your own hotspot. Perfectly convenient and free of cost.
To create your own Windows 10 hotspot simply:
· Go to settings
· Network and Internet
· Mobile Hotspot
· Click on the on/off button
In conclusion, you now know of all these amazing alternatives that are just as good, if not better, than Connectify itself. You are now well aware and can easily access and set up your own hotspot anywhere, anytime!