Microsoft Visio is unarguably the best graphics software at diagramming and producing vector graphics. Yet, not everyone can use the application. The major reason for this is that it can be too expensive for some people.

Microsoft Visio online offers two subscription plans as seen here. The first plan costs at least $5 per user monthly, while the second plan costs at least $15 per user monthly. Microsoft Visio Professional costs a whopping $1280 per year. While the $5 per user monthly plan seems cheap, it pales in comparison to other applications available.
List of Best Visio Alternatives for Free in 2023
Are you looking for options available asides Microsoft's Visio? The following are cheaper options at your disposal. You can make a choice based on which one seems to suit your needs most.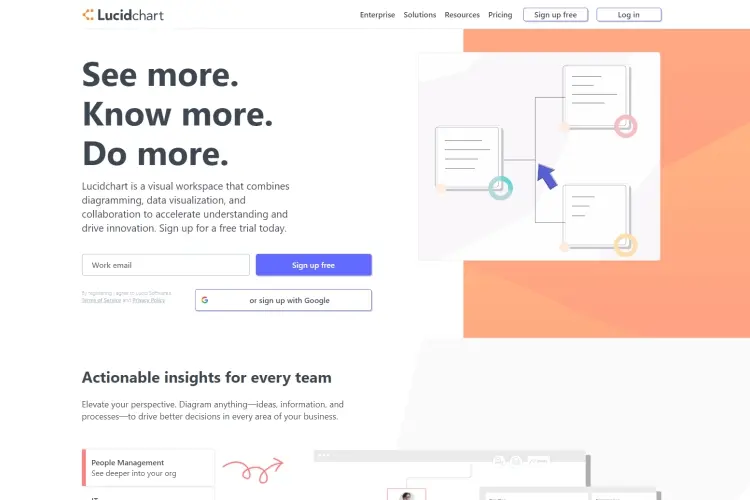 Lucidchart might be your choice if you're looking for a free alternative to the Microsoft Visio. It boasts of a very good interface that allows you to create simple flow charts and complex diagrams.
Generally, Lucidchart has a huge library of shapes and templates available for you. The interface is very enticing and is customizable. It has a drag-and-drop feature that allows you to draw any diagram you want. It is easy to use and allows you to add different containers and shapes to your design.
The free version allows you to use free templates. The paid version which goes for about $4 per month gives you access to unlimited shapes. The Pro version for personal users which goes for about $10 allows you to import and export Visio files.
There is also another Pro version for organizations or teams which costs $20 monthly. You should sign up right away and start a free trial with them. This could help you explore the application and what it has to offer.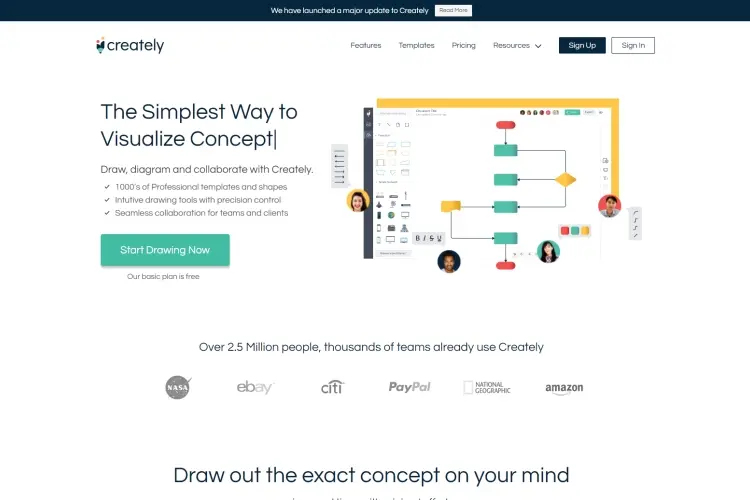 This is a very good diagrammatic application useful instead of Microsoft Visio. It is online and can visualize almost anything; ideas, concepts and processes. It has a lot of professional templates and shapes that you can choose from.
The drawing tool gives you very good control of your work at little or no stress. It helps you transfer your ideas into the application the exact way you want it. Creately boasts of about 2 million users making use of this awesome tool worldwide. This large community is enough assurance that this tool is a popular choice.
By using comments for your discussions, you can work together with other people on the same projects. You can add collaborators by using their email IDs. The free version limits you to only add three people.
You can export and share your work in different formats; PNG, SVG and JPEG. The templates and styles are customizable to suit you. There are over 50 specialized shape libraries. Some of them are Flow charts, Organization charts, AWS and IT Network shapes and diagrams. Additionally, the specialized library also includes UI Flows, UML and Sitemaps. It also comes bundled with ER and DB diagrams, UI and wireframes for web and mobile apps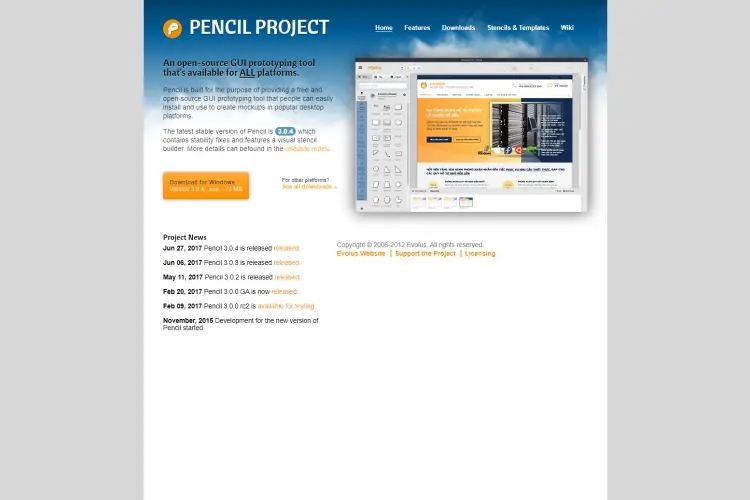 Pencil Project is a free source Graphic User Interface that can be your replacement for Microsoft Visio. It has various built-in shapes in its collection. This makes it a competitive choice for any diagrammatic job or mock-up. It is easy to use as it comes with Android and iOS pre-installed stencils to make the startup of your designs.
There are also built-in collections on Pencil Project that are Android and iOS-streamlined. General-purpose shapes, flowchart elements and Desktop/Web UI shapes are included by default. This allow for diversity in the sorts of things that can be done on the free source application. The Pencil Project community is well stacked with collections created by individuals. These can be installed into your Pencil Project via a simple drag-and-drop operation.
This diagrammatic tool supports connectors used to play around different diagram layouts. You can export projects to various formats; SVG, PDF and Open Office documents. Same goes for rasterized images or webpages. The Pencil Project has an in-app tool that integrates with OpenClipart. This allows you to customize your ideas with them through a simple drag-and-drop operation. The clip arts are in vector format and very easy to work with because of how workable they are.
You can link elements in different pages in Pencil Project but on the same document to one another. This helps you create your ideas in a way that is very interactive. The links are then converted to HTML hyperlinks when you convert the document to a webpage.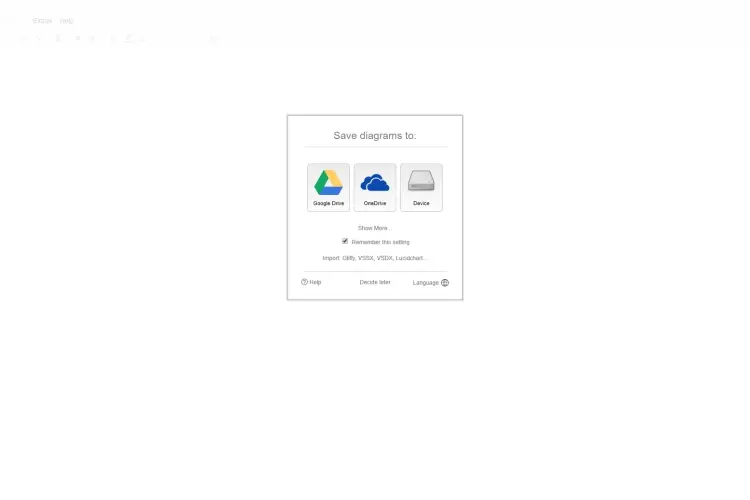 While lots of tools abound for creative expressions of ideas and innovative diagrams, draw.io is clear on what it wants to help its users achieve. Draw.io will help you create diagrams clearly. You can create flowcharts, process diagrams and organizational charts. You can also create ER and UML diagrams as well as network diagrams.
Draw.io wants to make creating and sharing diagrams available for everyone anywhere they are. In doing this, it is establishing itself as an open platform. The application is well loaded with already familiar tools. Draw.io makes sure that you don't experience any difficulty when you try accessing this free tool. You can create your diagrams using any website of your choice. You also enjoy a smooth working interface. You would also get all the features that the platform has to offer.
Draw.io has also incorporated some form of networking in this amazing platform. It allows you to share your work and collaborate with your team on G Suite, Jira issues and Confluence pages. This can be very effective for individuals working in a group or team.
You can also work offline with draw.io and save the projects you're working on your local workstation. This is possible by making use of its Desktop apps for Windows, macOS and Linux.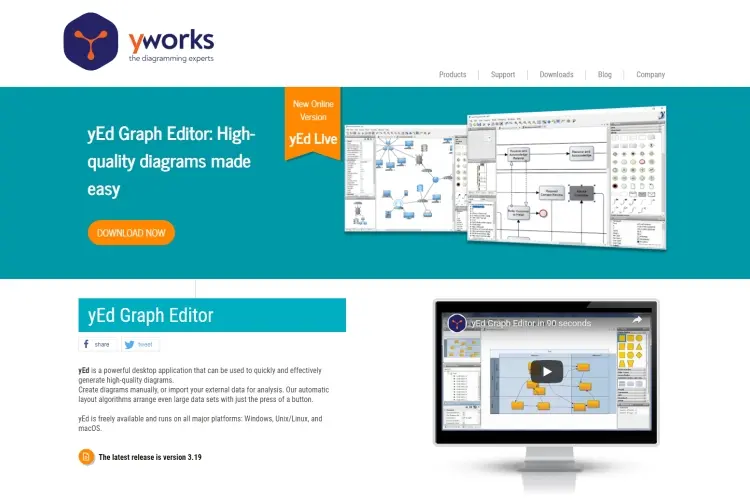 Diagramming experts! That explains the impression the makers of this diagrammatic tool have about their product offering. yEd Graph Editor brings about very effective diagrams with tools that are easy to use. Featuring a very powerful interface, you can create your ideasmanually or import them for analysis. The platform has an automatic layout function that arranges works with large data. yEd can work on major platforms; Windows, Unix/Linux and the macOS.
This powerful application has its own unique features. You can import data from Microsoft Excel spreadsheets which are of the .xls format. Diagrams are much easier to create with this app because it is user-friendly. You can arrange diagrams at the tap of a button. You can export projects to varying formats that PNG, JPG, SVG and SWF
An interactive web viewer is also in place that allows you to navigate zoom and print diagrams from the web. The HTML Flash Viewer feature allows you to save what you're working on. You can save it as a GraphML format which you can upload to a website.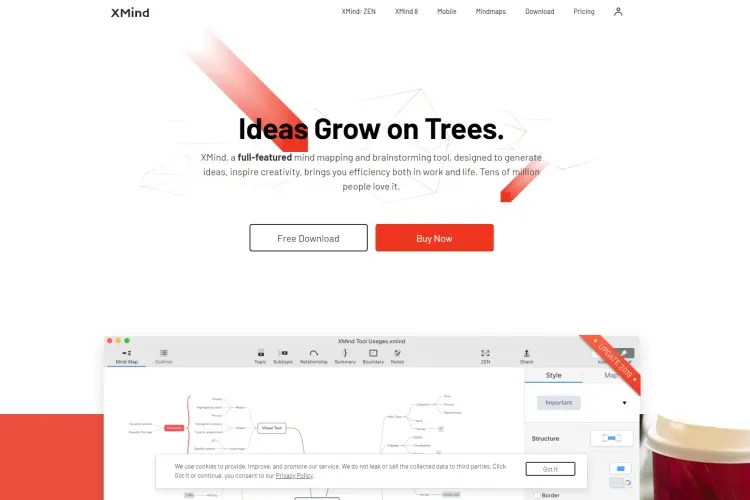 Let's be clear here, XMind is unique. This tool places a high priority in making its application help you achieve the best ideas ever. It helps you harness the best in you with every use.
XMind especially helps you structure your projects. The XMind tool has Fishbone charts, Matrix, Timelines and organizational charts that will help you visualizeproperly.
Worthy of mention is that XMind is a cross-platform app. It can help you carry your ideas and project with your work on them anywhere and at any time.
You can export and share your XMind maps on almost anywhere; Pinterest, Facebook, Twitter and so on.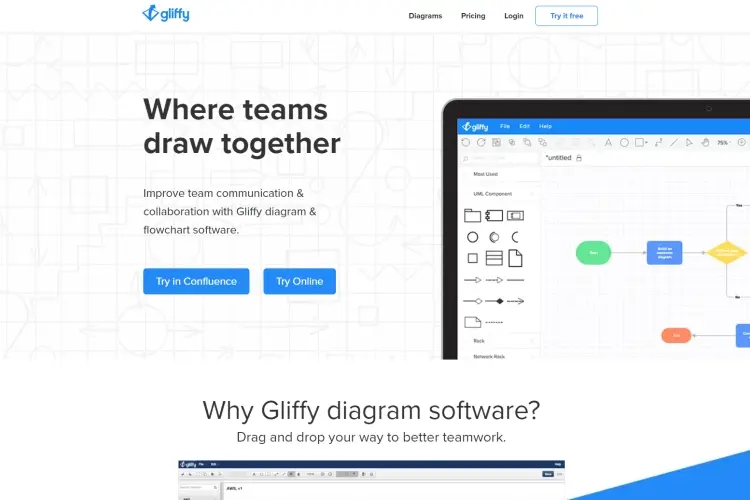 Gliffy prides itself as number one when it comes to providing an interactive diagrammatic tool. You can also work and share ideas as a team using this diagrammatic application . With Gliffy, you can use platforms like Jira and Confluence in the application to interact with your team.
The Drag and Drop feature is an encouragement for its use. You pick shapes and diagrams from the side panel and drop them onto the working interface. Gliffy is a very good Microsoft Visio alternative as it is versatile and easy to use. You can work your way from simple diagrams to complex ones. You can share your ideas and diagrams on various platforms. You can import and export files as well.
The basis for its pricing is on the products which it offers; Diagram, Gliffy Diagram for Confluence and Gliffy Diagram for Jira. Diagram as a product offers an annual $7.99 Personal plan and an annual $4.99 Team plan billed per user.
Gliffy Diagram offers a $10 per month plan for up to 10 users and an annual $3.80 per user plan for 11 to 100 users. The same billing also applies to Diagram for Confluence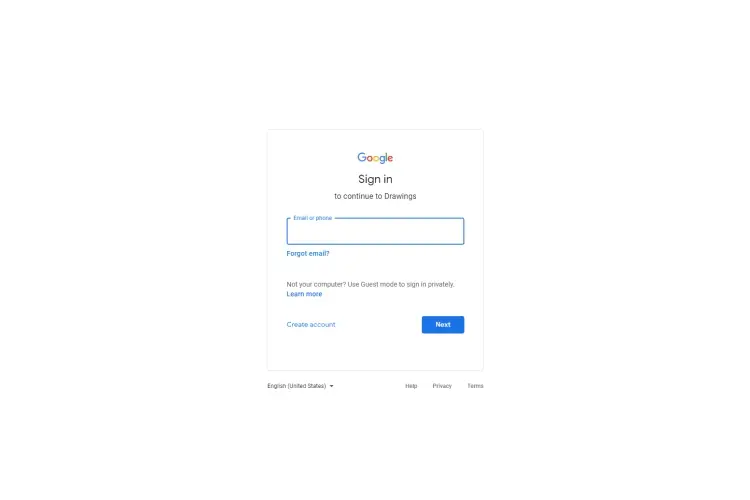 Google Drawings is an application that can help you create shapes and diagrams. With anything Google, you can always expect a simple and attractive interface. Google Drawings is fun to work with. You can add color to your documents, presentations and websites with ease to create charts and diagrams.
Google Drawings also supports interaction with another person you are working with. What it means is that you can attach comments and send them an email notification.
Also, all your Google Drawing documents are accessible anywhere, and on any device. Remember, you can save online on your Google Drive.
Conclusion of Free Alternatives to MS Visio in 2023
The 8 alternative tools to Microsoft Visio listed in this article offer great offerings. While some of them have premium subscriptions, they run on a freemium model.