Most lovers of movies and TV shows have now gone digital for their entertainment purposes. Use of cable TV is now reaching extinction as more people cut their cable TV cords as a result of the unnecessary expense it gulps. With the inception of TV streaming sites, you can now get to watch your favorite TV shows and channels anywhere and anytime you want.

Why do you need to go legal?
There are a good number of sites you can visit that allows you to watch Live TV for free without facing legal challenges. You can't afford to stream live on illegal sites that do not have authorization because it is a serious crime and might lead to prosecution. Some countries have strict laws against unethical online streaming and they exercise full judicial action against the accused and the offender. The developer of the website often faces the wrath of the law in most cases. Most of the illegal websites do not broadcast live from their servers but dubiously creates links to provide free streams.
The Best Sites to Stream and Watch Live TV
You need to be very careful of some dubious online streaming websites because they tend to inject malware (virus) into your device. The privacy and security of your system's information from these malicious websites matter most. Therefore, the best sites you need to watch your favorite Live TV shows, movie, sports games, and events are listed below. With these sites, you are fully protected and covered; no need to worry.
Here are the best sites to stream and watch Live TV for free and paid.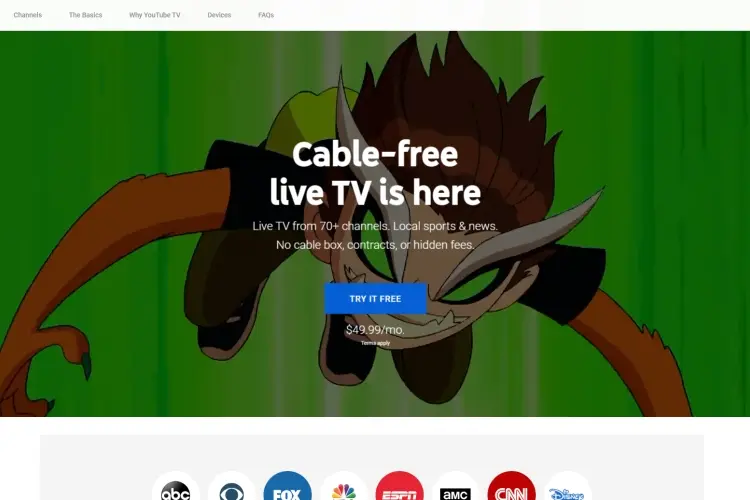 YouTube TV is a massive content streaming subscription service available in the United States as it boasts more top channels than its rivals. The networks include ABC, CBS, FOX, The CW, NBC, and more. It offers an amazing service of Cloud DVR without DVR storage space limits. This Cloud DVR feature includes unlimited storage and nine months or mostly 30 days to watch downloads.
This TV service offers 80+ channels from the United States which can be streamed directly on your phone or your computer without the use of cable box. The interface of this service is very simple and easy to navigate. It offers you most of the qualities you find in cable service.
YouTube TV has different TV categories such as Entertainment, News, Sports, and Kids. The channels for each category is as follows : Entertainment - BBC America, Freeform, AMC, Bravo, Nat Geo Wild, FXX, E!, and more; News - BBC News, CNN, Fox News, CNBC, HLN, and more; Sports - ESPN, CBS RSN Channels, FS, NBA TV, Olympic Channel and more; Kids - Disney Channel, Cartoon Network and more.
Unlike other stream sites, it offers just a single package and that's all. You can get started by subscribing on this service for just $50 per month.
YouTube TV Features
· Intuitive interface and advanced program guide
· Offers Cloud DVR for unlimited storage.
· Boasts of massive contents and more top channels than its rivals.
· Offers different categories such as Entertainment, News, Sports, and Kids.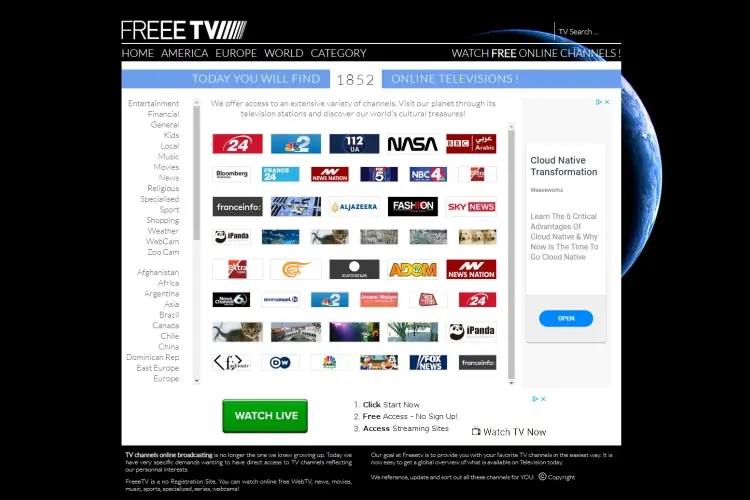 As the name implies, FreeeTV is a free and legal website you can stream and watch your favorite channels from. It hosts a great number of openly available sources for live streaming on various websites like YouTube and other reliable website sources.
FreeeTV gives you flexible access without being required to sign-up before you will be able to stream online. All you need to do is visit the website and enjoy streaming immediately without delay.
This site is very easy to navigate with its straightforward user-interface. Besides, it might not look modern but it boasts of massive exciting contents that are very much available any time you want.
If you are interested in visiting the site, you will be required to select your home country as the content are sectioned according to your location and preferences. Then, you can see through the list of available content in your country and click on your choice. It covers different categories such as Entertainment, News, Movies, Sports and more. FreeeTV contains a vast amount of channels which ranges up to 1980 channels. You are free to browse through and stream any of these channels to watch your favorite programs and events. FreeeTv is legal and as a TV series lover, it is the perfect site for you.
FreeeTV Features
· It is free and you don't need to pay to stream.
· It streams from Legal sources.
· Boasts of series of categories.
· Offers over 1980 channels to stream online.
· Friendly user-interface and easy navigation.
· Contains very few Ads.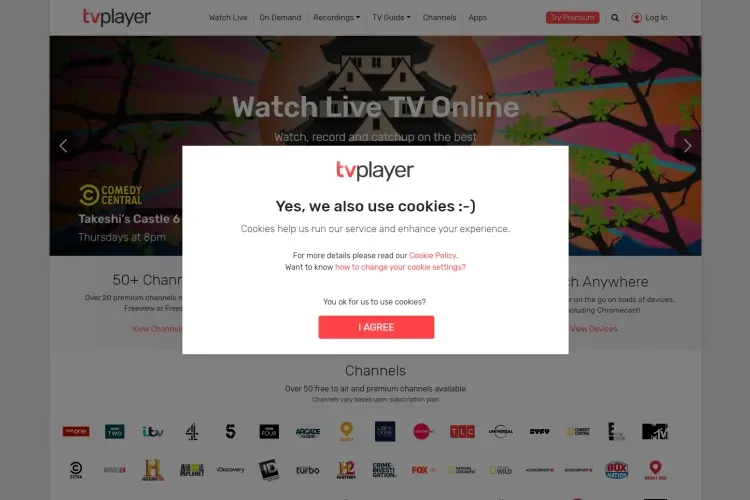 To get legal streams and watch live TV, TVPlayer is one of the best you can trust. It gives you access to stream more than 80 Live TV channels for free on your mobile app and Web. The website offers more than 60 channels for free. To stream more amazing channels on TVPlayer, you've got to subscribe for the premium version which costs $9/month.
TVPlayer is one of the favorite British streaming services with excellent streaming quality. However, the site is planning on expanding its services to the US, Canada, and other European countries
TVPlayer Features
· Stream your favorite UK channels.
· You can record your TV shows to watch anytime you want.
· Subscribe for more amazing channels and use on up to 5 devices at a time.
· With this site, you've got no legal complications.
· Watch programs live and catch up on TV.
SlingTV offers one of the best and reliable Live TV streaming services. It boasts of easy customization, unlimited tweaks and number of channels. Sling TV is paid TV site as it offers many favorable packages depending on your choice.
The orange package costs $15/month for 31 channels and the blue package also costs $15/month for 45 channels. The orange and blue packages can sum up to one basic plan which costs $25/month and it includes premium TV channels like CNN, NBA, NFL, ESPN, Food, and AMC.
This site operates in the US and offers a 1-week free trial so that you can navigate through the features to examine if it suits your taste.
Sling TV Features
· It is a paid streaming website
· Easy customization
· Easy to navigate and watch Live TV shows
· Offers a 1-week free trial for checking.
· Provides a mix of basic news, sports and entertainment channels.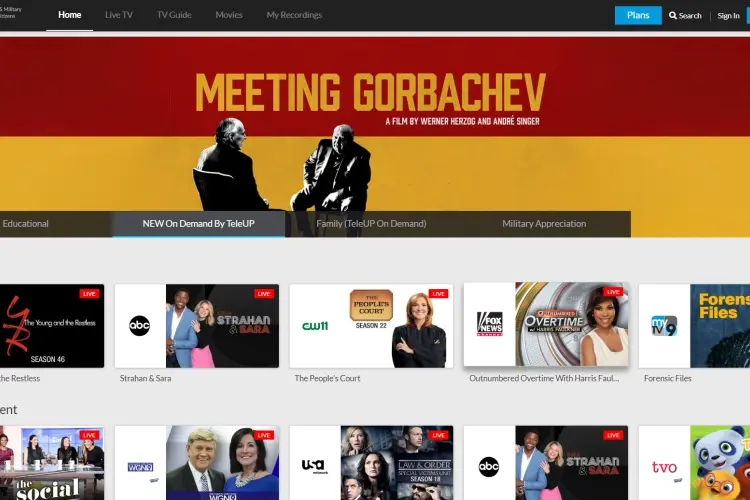 USTV Now is one of the best streaming sites primarily launched for US citizens and US military living abroad. This website enables you to stream American channels as well as other English Channels for free.
USTV Now is a completely legal website and it offers high-quality live streams and allows you to record videos to watch later. It has a neatly designed, loaded and friendly user-interface.
This site offers 3 plans to choose from. One of the plans is free and it gives you access to watch a maximum of 6 channels. If you want full access to all the channels offered by the site, you will have to upgrade to their premium plan - which you will pay for.
To enjoy the services of this site, you have to visit the website and register. It is very easy to register. After completing the sign-up, you can now enjoy the streaming services it offers.
USTV Now Features
· Offers the content in HD Quality.
· Record videos of programs and live events and watch later.
· It offers a great number of Supported Channels like CNN, BBC, FOX, NBC, ABC, ESPN, Animal and more.
· Easy, neat, rich and friendly user-interface.
· Basically for US citizens and Military staying abroad.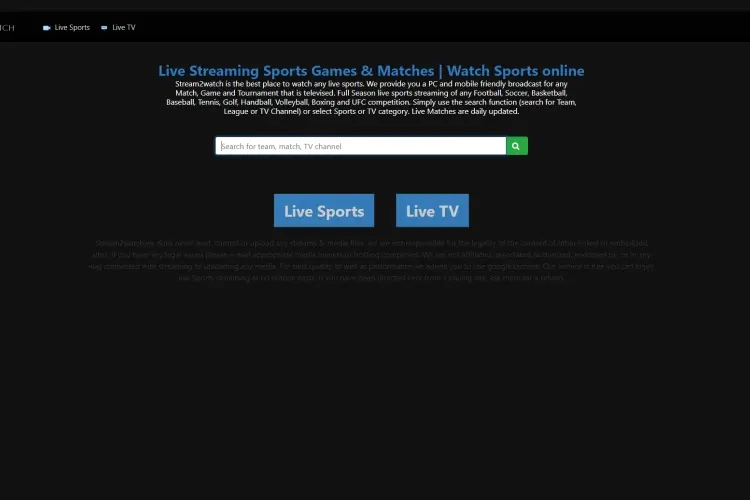 Stream2Watch is one of the best and amazing sites for streaming live TV. It is a free website that offers extraordinary features which include; friendly user-interface, availability of massive database and high-quality content to watch. Stream2watch hosts links from a great number of resources on its platform.
You can choose to watch live TV channels from more than 35 countries including, Canada, US, UK, Spain, Russia, France, Germany, and more countries. You get to stream live and watch unprecedentedly any of your favorite channel with your phone or laptop devices. Stream2Watch also offers Sports Streaming Channels and you can switch to watch your favorite sporting events.
You may experience some setbacks when using this website. Some streams may not work as a result of the unreliable sources from which it was hosted . Also, you may face frustrating moments with some pop-up ads. However, these setbacks are nothing compared to the quality services you tend to enjoy when using the website.
Stream2Watch Features
· Amazing and friendly user-interface which is easy to navigate and browse.
· You get to choose any channel from more than 35 countries.
· Features high-quality content and numerous database.
· Offers about 1000 TV channels from different countries all over the world.
· There's an option to also watch your favorite sporting channels on this website.
· Sign-up is not needed before you can access live channels.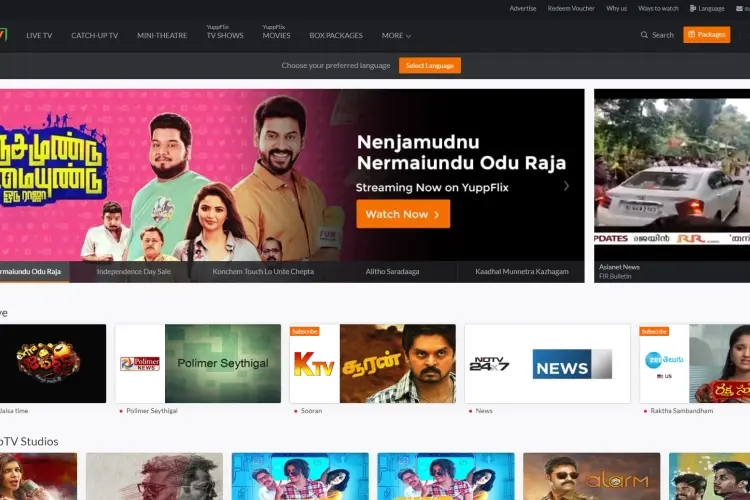 Yupp TV is a popular and interesting platform you need to stream live Indian channels and movies. This TV does not only offer live streaming of Indian channels, but some English channels are also offered . The user-interface has a professional and neat look. The site offers quality streams which appear to be better than the sites of the TV programs.
An app has been developed for this website which you can download from iTunes or Play Store. Yupp Tv App is available for download in countries like UK, USA, Malaysia, Australia, Canada, and more.
This site hosts all famous live TV channels which include national and regional channels from India. You will get a 7-day free trial on this site and then, you will be charged $6.99 for this first month. Afterward, you will be charged $3.99/month.
You can stream different channels on this site which include; Zee Cinema, Sony TV, Zee TV, Star Plus, Sun TV, Star Vijay, Mtunes , SAB, Zee Telugu, India Vison, Suvarna News, News9, Zee Punjabi, Saam , Dhoom Music, and more.
Yupp TV Features
· A professional and neat user-interface.
· High-quality streams.
· Functional and effective playback.
· Easy navigation and great performance.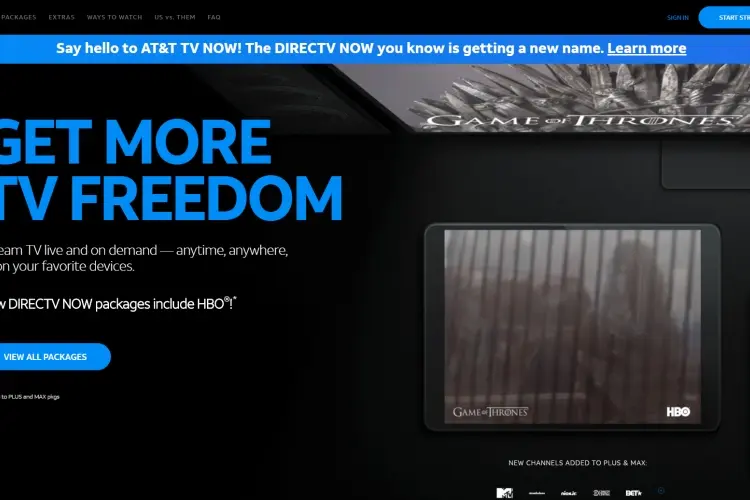 This is another reliable US channel to stream your live TV channels. DirecTV by AT&T TV Now is a popular platform with several subscribers all over the world. This live streaming website has a huge number of channels with more than 150 channels to stream and watch your favorite shows and movies.
With DirecTV, you get to enjoy different genres in Entertainment, Sports, News, Music and more channels. The popular channels it offers are AMC, FOX, CBS, A&E, Discovery Channel, Disney Channel, Univision, Turner, and Viacom.
For subscription on DirecTV, the packages range from $35 to $70 per month depending on the number of the channel you choose to watch.
DirecTV Features
· TV-like interface coupled with the feature to swipe left or right to switch channels.
· Offers a discount for AT&T Wireless users.
· Huge number of channels to stream ( more than 150 channels).
· Best website for HBO fans.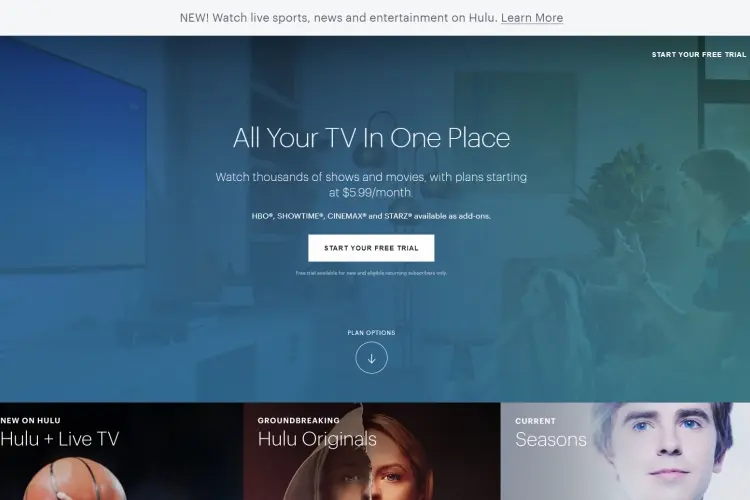 If you want to catch all action of live streams of your favorite TV channels, Hulu TV is the one for you. This website grants you full access to popular live TV channels. It is a subscription-based platform and the pricing starts from $7.99 per month. With this price, you get to stream live TV on favorite programs like Soccer, TV shows, movies NFL, NBA and more. To get access to premium content, you've got to pay $39.99. You can watch free but limited content with over 150 movies and TV shows included.
Hulu started Live TV streams in 2017 as they previously host series of TV shows, movies, and other interesting programs. If you want to enjoy the best services of Hulu, you've got to subscribe for higher packages as they don't contain ads.
Hulu Features
· Hosts more than 150 Movies and TV shows.
· Supports high-quality HD streaming.
· Offers great contents you need.
· Effective and efficient mobile apps. TV Catchup is one of the most popular TV sites in the UK. This site is an internet TV service which allows you to stream UK channels and watch them for free. With TV Catchup, you can get high-quality contents with no pop-up ads.
This website gives you access to UK channels like BBC, Channel 4, Channel 5, ITV and more. If you are interested in watching FTA channels, TV Catchup got you covered. You can get to know the timing and schedules of all the channels that it offers.
TV Catchup has developed an app that makes it easy to stream your favorite live TV shows on your mobile phone. This site also offers unlimited DVR that enables you to store up videos of any capacity.
TV Catchup Features
· High-Quality content with no pop-up ads.
· Professional and clean interface.
· An app has been developed to enhance versatility and flexibility.
· Powerful site which grants free access to its live TV streams.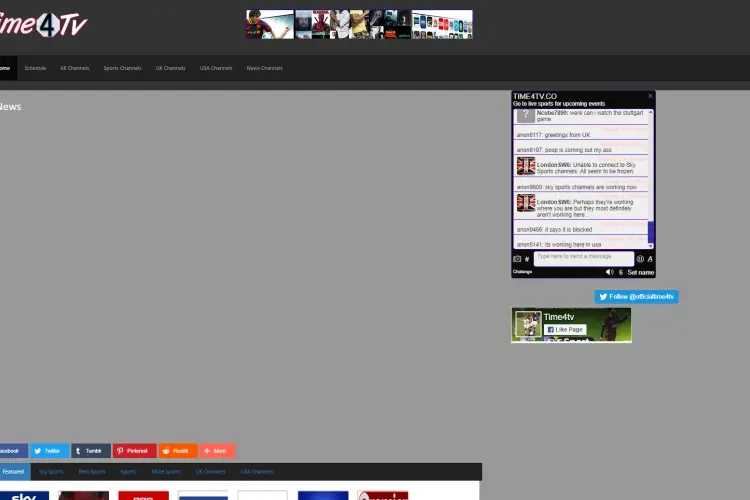 With Time4TV you can watch Live TV channels anywhere you are in the world. Time4TV grants you free access to watch UK channels, US channels, News, Sports channels, and Hindi Channels. All you have to do is search for the TV station you want with the search box.
If you are a sports fan, you are all covered. This website grants you access to watch more than 60 sports channels like ESPN, BT Sports , Sony Network, NBA TV, MU TV, NFL Network, Star Network, WWE Network and more. You won't have a problem loading the channels as multiple links will be provided peradventure one link fails to load.
You don't need to subscribe on this website as it is free.
Time4TV Features
· Grants access to 60+ sports channels.
· Amazing source to watch Live TV without restriction.
· Provides multiple links to channels in case if one fails to load.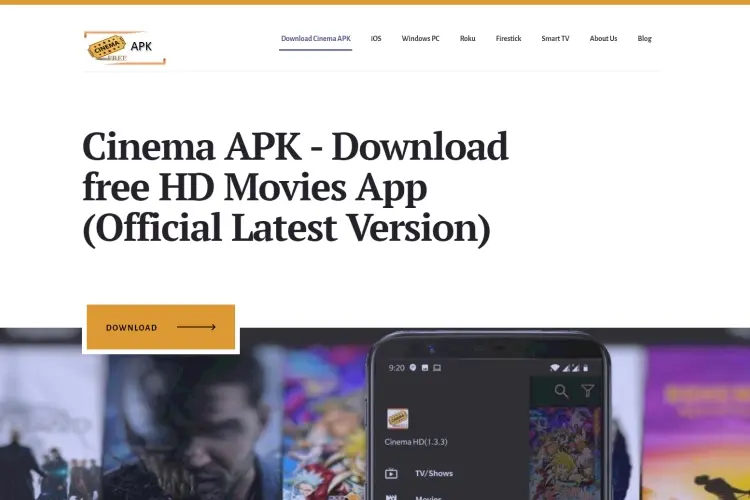 Cinema HD is of the best Live TV streaming applications in the world. It is an app which promotes the image entertainment industry as you can stream different TV programs and movies. You get to enjoy Cinema HD as its content are usually in high-quality.
You need to download this app to get started. Mind you, you don't have to pay a dime to stream Live TV; it is free. You can install the Cinema HD on virtually any device like Windows, Android, and iOS devices. The installation is quite easy to go about.
Another amazing feature about Cinema HD is that app content is refreshed each day you visit. Also, you can choose your favorite TV programs and movies and come back to watch them later on.
This app is completely legal and you've got no worries about the risk of malware or other threats.
Cinema HD Features
· Provides different subtitles, color, font and more.
· Free and easy to use.
· Completely legal
· Few appearances of ads.
· Easy installation
· Compatible with almost any device.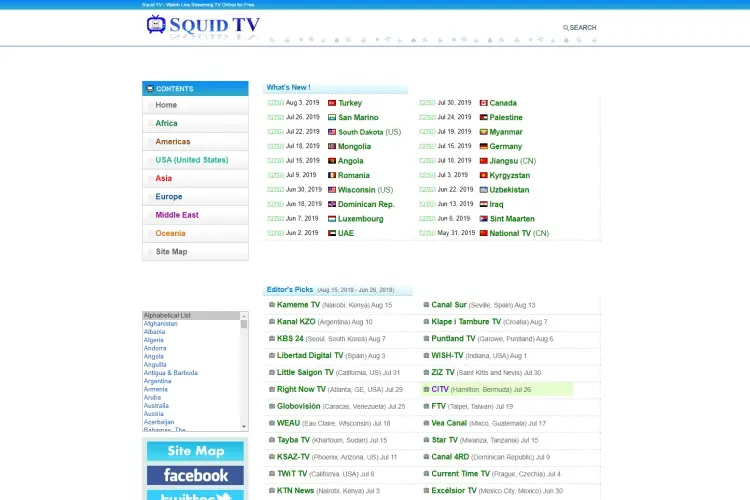 Squid TV is a world-wide Live TV streaming site that gives you access to several national TV networks. This site host all lot of streams across the world and the streams are classified with respect to language, region, and genre for easy navigation.
The available streams are completely legal gathered all over the world. If you want to watch the channel of any country, Squid TV will grant you free access. It is very easy to search for the channel you are looking for on Squid as a result of its easy to use guide.
A link collector feature attached to Squid TV helps you to get active and high-quality links for the channels you are looking for.
Squid TV Features
· Offers Global Streaming Network.
· Regional classification makes it easy to find your favorite TV channels.
· The Link collector feature enables you to get legit links.
· All provided links are active and high quality.
· Smooth and easy navigation.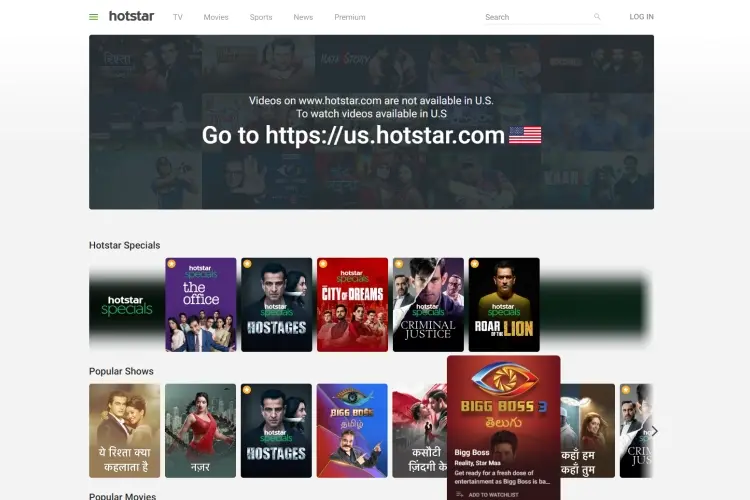 Do you live in India and you are a lover of Indian contents, Hotstar is the real catch for you. Owned by Star India Company, it is a famous streaming service that targets the Indian audience.
Hotstar is a very high-quality website with more than 25 million users. This website offers you exclusive entertainment content with top Indian Movies, Dramas, Soap Operas, and TV shows. Also, it broadcasts the Cricket World Cup as Indian prime sport is Cricket and the Olympics competition. Hotstar has expanded its services to the US and Canada because it hosts a lot of international movies.
You can watch your favorite content for free on Hotstar as they generate their revenue from advertisements, so you don't need to subscribe. But if you are interested in getting access to more content, a premium subscription is what you need.
Hotstar Features
· Modern, professional and friendly user-interface.
· Offers free exclusive content.
· Massive entertainment content.
· Covers live events including the Olympics and Cricket World Cup.
· Huge fan base with more than 25 million users and 300 million views milestone.
Netflix is a popular streaming service that gives you access to watch a wide range of award-winning TV shows, documentaries, movies and more. This streaming service allows you to enjoy unlimited content without having to view any commercial ads.
To search for your TV shows and Movies, enter your titles into the search box or browse suggestions provided by Netflix. You stream Netflix with various devices like laptops, phones, and tablets.
Netflix is a subscription-based service and there are 3 variety of plans you can subscribe to. However, Netflix offers a 30 days free trial for its members in the US. The Basic plan costs $7.99 per month (only watch on 1 screen in SD quality), Standard plan costs $9.99 per month (can watch on 2 screens at once with HD quality) and Premium plan costs $11.99 per month (can watch on 4 screens at once with HD and Ultra HD quality).
With Netflix, you can discover new TV shows and movies as they are added every month for your pleasure. You can become a member of Netflix by simply visiting their website and you select Sign In to access your account and begin streaming.
Netflix Features
· Gives you access to award-winning TV shows, movies, and documentaries.
· Enables you to explore and discover more interesting TV shows.
· Does not contain commercial ads.
· Offers HD and Ultra HD quality streams.
Conclusion : Best Sites to Stream and Watch Live TV
You can now enjoy Live TV streaming as you have been provided with the best sites to find any of your content. From YouTube TV to Netflix, you will fall in love with one of these sites.
This post is a combination of both paid and free websites. You have to register with some while some don't need you to sign-up before streaming.
All the websites listed are completely legal and your devices are protected from malware or any infringement of your privacy.
Catch all live action of your favorite TV shows, sports, movies and news on these websites. Enjoy!