From industrial-based to an information-based economy, a shift process has been done, converting it into a digital era. We are using computers and other technological inventions as a medium of communication.
Not just that, but whenever we are willing to become a part of any modernized program, it requires our personal information as a source of our credibility. But, what is the proof of the respective program's credibility?
Did you ever think about how many problems you can get yourself into if someone misuses the information provided by you?
This is not as rare as it sounds! Cybercrime has become so common that people have started to feel insecure when it comes to their cyber-safety.
We don't want you to become a victim of such fraud and scam. That is why we have decided to put together the best fake email generators where you can easily create fake email addresses?
Email address is the most basic and important part of your personal information. If someone gets to hack your email address, they can easily get access to your other social media accounts and even your cell phone device, or whatever is connected with that one email account of yours!
This is way riskier than it sounds. Believe us, you don't want any of it to happen to you!
If you want to take precautions and make sure that you are not falling for a scam, this is the article that you need to read!
List of Best Fake Email Generator Online
By the end of this article, you would know the best of the websites from where you can create fake email addresses, and use them as a part of your personal information.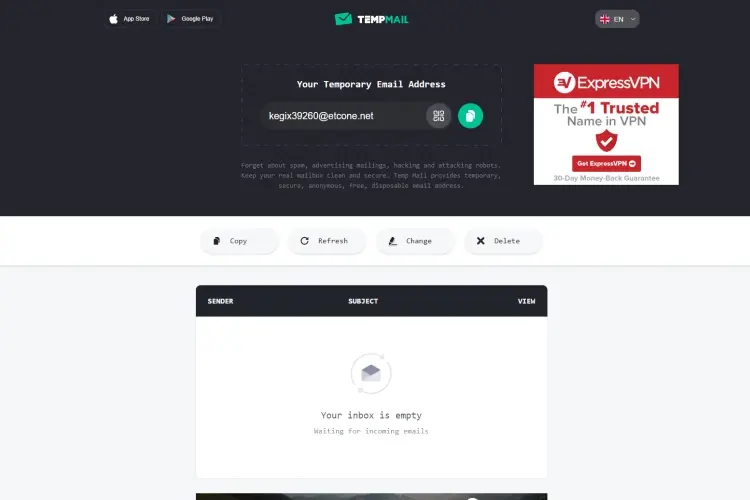 Temp Mail is our top-pick, because it is very simple and easy to use! You don't have to sign up or walk an extra mile to create a fake email address. All that you have to do is visit the website, and refresh the page.
Every time you refresh it, a new disposable email address would appear on the screen of your device. This way, you can easily create as many fake emails as you want.
This domain will work the best for you if you are willing to use a fake email address for any social media signing up formalities.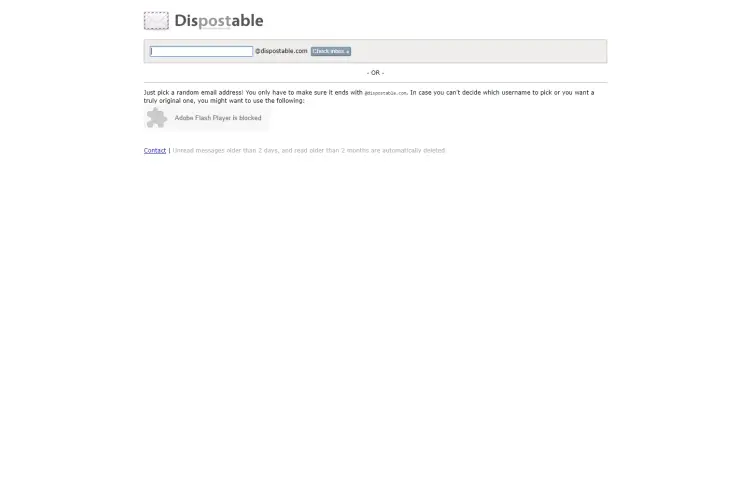 This is an amazing website! Dispostable helps you in creating a fake identity-based email address in a blink of an eye.
Not just generating, but once you have successfully created a fake email address, you can use it for as long as you want. You can use the fake email account by checking for new mails in the inbox.
The interface is pretty basic and user-friendly. You don't have to worry about the process. Dispostable has made it easy for you! You can achieve your target within seconds!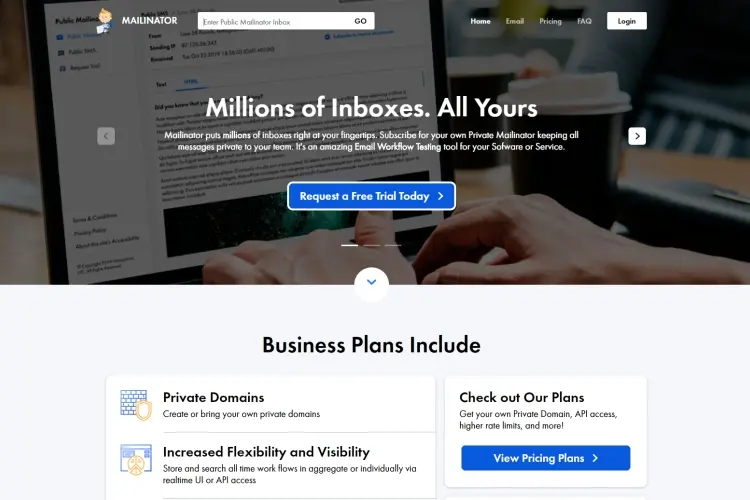 One of the worst parts about keeping up with the whole email process is that you also have to deal with the spam emails. It doesn't matter how much you are bothered by them, they still happen to occur in your inbox.
To avoid it, Mailinator has come to the rescue!
You can use Mailinator to create fake email addresses as well as IP addresses. The created email would work like any other regular email. However, the spam messages would be filtered and deleted, automatically.
You can check the inbox of the respective email weekly, monthly, or a daily-basis.
There is no sign up required to become a part of this website. You can make the most of it! Don't wait! Visit the website now!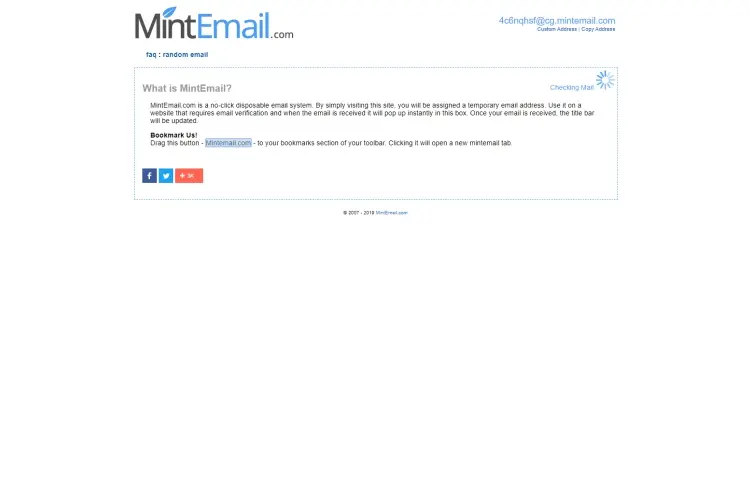 Mint Email has all the features contained by the other generators that we have previously mentioned.
Just like any other fake email generator, Mint Email also helps its users in creating fake email addresses within seconds. It also helps in keeping up with the inbox. Then what's different about it? Let us tell you!
Unlike most of the other email generators, Mint Email serves its users with a feature of notifying the person whenever they receive a new email from anyone across the world. This additional feature is one of the reasons why Mint Email has gained popularity amongst people who want to stay away from any fraud and scam.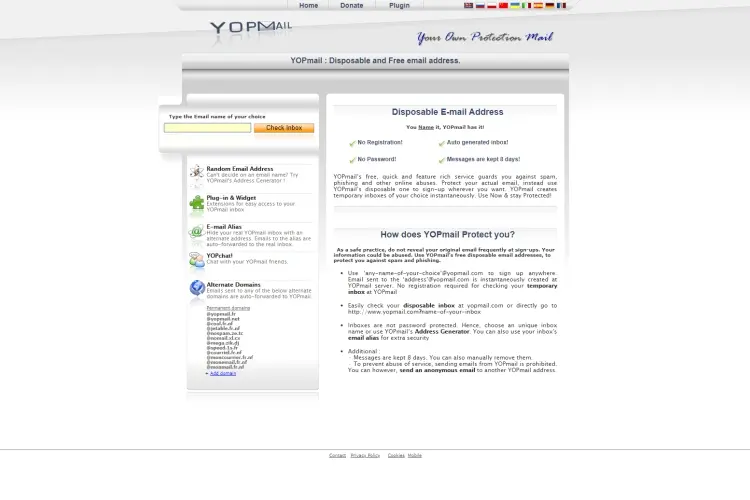 If you are willing to create a fake email address without any hurdle, YopMail is the one for you!
The user interface is very elegant and easy to use. The directions and steps of using the interface have also been displayed on the homepage of the website.
YopMail provides a unique email address to every user. It works efficiently!
No registration is needed. You don't have to put up with the formalities before getting what you actually want.
However, the messages that you would be receiving on the fake email addresses created by using YopMail, they would be kept only for 8 days. After that, the messages would be considered unimportant, hence, they would be removed from the inbox. Every generator is similar in a way or another. The standard service and core purpose are to create a fake email address for people who are willing to have one.
Guerrilla Mail is another website from one of our best-picks for generating fake email addresses.
But other than just the core purpose, there is more to Guerilla Mail! You must be wondering what! Let's tell you!
Guerilla Mail has an android app that you can use as a go-to application for your android devices. You can use this app to create as many fake email accounts as you want.
Talking about the interface, be it the website or android app, it is very basic and easy to understand and use.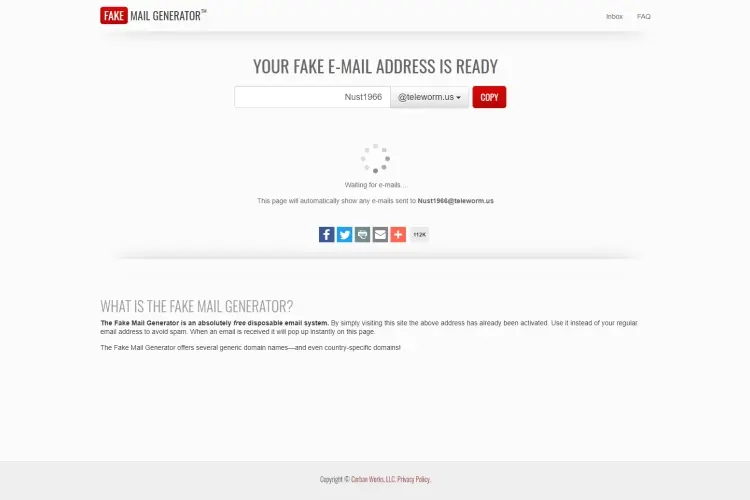 Fake Mail Generator is a very basic website to create fake email accounts, as evident from the name.
You don't have to go through any complicated process of proving your identity before getting to the main purpose. This means that this website is registration-free to be used!
Not just that, but Fake Mail Generator is reliable and by far one of the most relevant websites that are supposed to work as a fake email address generator for you.
Visit the website, follow the instructions mentioned there, and you are all set to use the fake email account as your identity anywhere you like!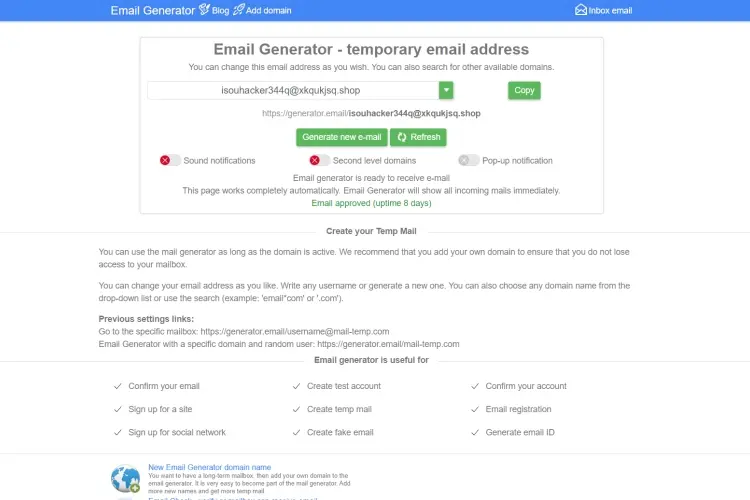 Once you have successfully created the fake email addresses, you can now keep up with inbox messages very easily. Generator.email allows the inbox messages to stay up to 140 days. This period is enough for a normal person to check up on their inbox. If they don't, that means that the respective emails are not important to that person. This is why Generator.email removes it after a certain period.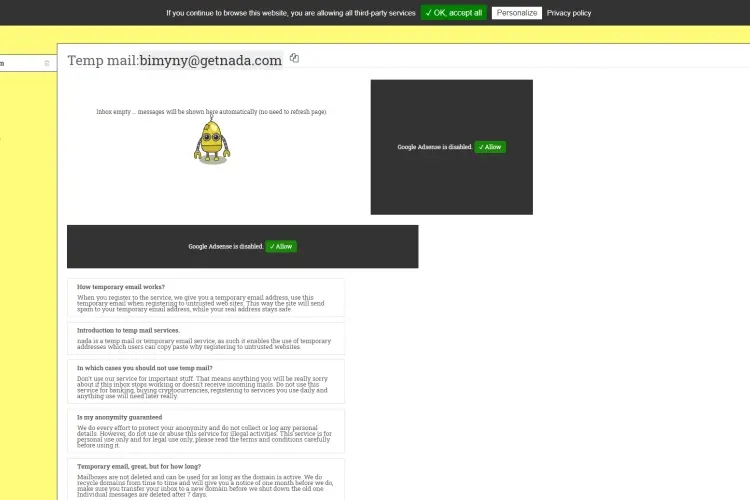 This works wonders for people who are willing to create numerous fake email addresses for different purposes.
Every time you want a new email, GetAirMail would create a unique and never-used-before email address for you!
The user interface is very understandable, and simple. You can use it like a pro.
Not just the above, but GetAirMail is also one of the most popular, reliable and relevant websites that you can use to generate the fake email address.
Now, you don't have to worry about the other network's credibility. GetAirMail has got you all covered!
What are you waiting for? Visit the website now!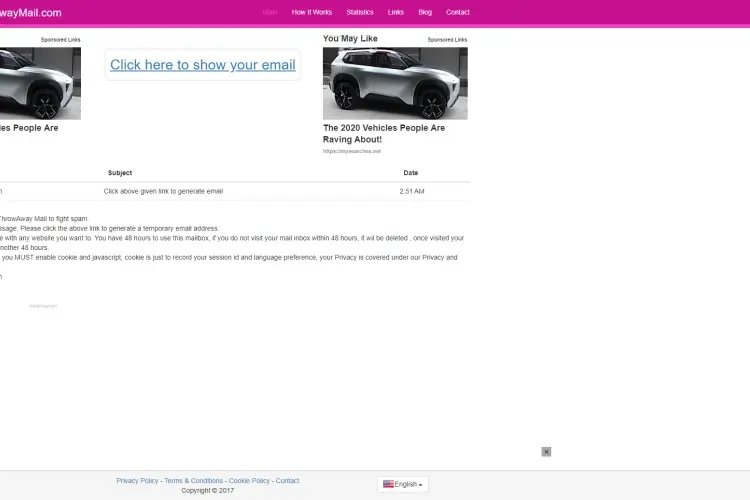 ThrowAwayMail allows you to generate a fake email address in just a click! Yes, you heard it right! We are talking about just a click!
With its highly user-friendly interface, ThrowAwayMail has managed to win the hearts of many technology lovers from all across the world!
ThrowAwayMail also claims to fight away with the spams that you are very likely to receive in your inbox.
To make the most of this website, you are supposed to enable the cookie and JavaScript of your device. Why? Cookie because it would help you in recording your session identity as well as knowing you language preferences. Whereas, privacy is covered under the domain's privacy policies.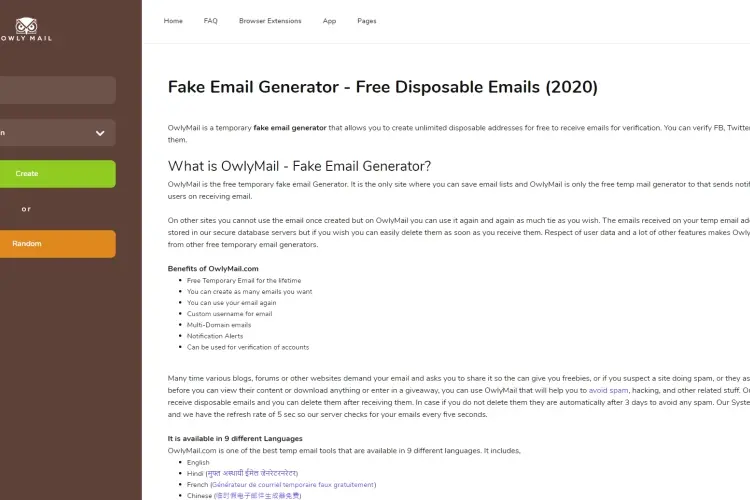 By using Owly Mail, you can use free temporary emails for the lifetime. There is no limit to it!
The email that you create by using Owly Mail as your generator is reusable. You can use it again and again.
It enables its users to create a custom username for the email. This feature is appreciated by most of the people with creative minds!
Multi-domain emails can also be created by using Owly Mail.
It also notifies the user in case of receiving a new message. You don't have to worry about missing out on an important email. Owly Mail has got your back!
You can use the fake email address created by Owly Mail as a source of verification on various sites. It is a very relevant generator. You can rely on it! Its only purpose is to help you in not getting yourself into any trouble that can come as a result of cybercrime.
If you liked this article, and it helped you in maintaining your safety, share it with your loved ones. The safety of your loved ones should be your priority! Just like your safety is our priority!
Thank You!